Review: Test report about our experiences with the erotic site SmallTitsBabes.biz
If you are loo­king for small-breasted girls on the Internet, you might have alre­a­dy stumb­led across the ero­tic site Smalltitsbabes.biz in various TGP lists or via Google.
Due to the appe­al­ing design and the appe­tiz­ing pre­view images, it encou­ra­ges you to take a clo­ser look at the pre­view area.
I love small breasts and am per­ma­nent­ly loo­king for high qua­li­ty porn sites with flat ches­ted MILF women around 30 – 40 years. Unfortunately, I was dis­ap­poin­ted seve­ral times with other reviews, such as ILoveSmallTits.com, SmallTitsGirls.com, MiniBoobs.com and Flachtitten.net.
I hoped that I would final­ly hit the bul­l's eye with SmallTitsBabes.biz and put this porn site to an ero­tic site test. Find out in the fol­lo­wing review what is hid­den behind the mem­ber area. You can also read in the test report whe­ther a mem­ber­ship is worth it.
NOTE:
The pro­ject SmallTitsBabes.biz has been dis­con­tin­ued. We recom­mend you on the web­site
aebn.net
to brow­se for other horny mini tits vide­os. Teens with small boobs you can also find on
Erotic.com
Visit Smalltitsbabes.biz
Opinion about the preview area of Smalltitsbabes.biz
On the two-page lay­out, the pro­s­pec­ti­ve cus­to­mer is pro­mi­sed "100% Small Tits Babes Hardcore Videos". Moreover, the sex site is just the right one if one is loo­king for 18- to 19-year-old hard-fucking girls with small breasts.
One can navi­ga­te from the home­page to two other sub-pages of the pre­view area.
Numerous, small pre­view pic­tures and texts in the colors pink, beige and light green made me curious. I felt attrac­ted, eager­ly signed the mem­ber­ship con­tract and nai­vely paid by cre­dit card.
Rating of the porn sites registration
Before you can see the pay­ment form, you first have to enter your email address and a desi­red pass­word. The bil­ling of the small-tits porn site runs through a rather unknown American bil­ling com­pa­ny (pay­ment pro­ces­sor) cal­led Segpay.
Unfortunately, the rude awa­ke­ning came after pay­ment at login! Smalltitsbabes.biz was a lock page for the video por­tal www.hot-sex-moviez.com.
Disappointingly, the por­tal has not­hing to do with mini tits at all! We are glad that we only chose the $1 trial access for this review and did­n't fall for the $40 cost trap. It's also reassu­ring to know that we used a pre­paid cre­dit card.
After a few weeks out that to the regis­tered test email address is sent mas­si­ve SPAM. We will have to deac­ti­va­te the e‑mail address and warn against giving an important e‑mail address when registering.

Test – Review Member Area
After pay­ing the mem­ber­ship fee, one lands on the porn por­tal hot-sex-moviez.com. Here you will not find any infor­ma­ti­on about small­tits­ba­bes. You can't belie­ve that and suspect that it must be a mistake.
If you look into the order con­fir­ma­ti­on email from Segpay, you will find only hot-sex-moviez.com there as well! More dis­ap­point­ment is not possible!
Opinions about page structure & design
The design of the pre­view area (tour pages) is com­ple­te­ly dif­fe­rent from the mem­ber area. Even though they made an effort to crea­te an appe­al­ing lay­out in the pre­view, the mem­ber area is total­ly ugly.
Experiences with the subscription cancellation
Compared to other porn sites, the can­cel­la­ti­on of the sub­scrip­ti­on is quite uncom­pli­ca­ted. Neither by email nor on the web­site one is infor­med about how to can­cel the sub­scrip­ti­on again.
The bil­ling com­pa­ny Segpay pro­vi­des a so-called self-service por­tal at https://cs.segpay.com. Enter your purcha­se ID, e‑mail address and cre­dit card num­ber and you will be taken to your sub­scrip­ti­on over­view. Simply click on "Cancel Subscription" and your mem­ber­ship is canceled.
Test verdict & conclusion to the test report of Smalltitsbabes.biz
When test­ing the ero­tic site Smalltitsbabes.biz, it tur­ned out that it is a clone site. The mother pro­ject is www.hot-sex-moviez.com.
Even though the por­tal is quite good, we feel rip­ped off becau­se we were not infor­med in advan­ce that it is not a small tits mem­bers area at all.
The girls from the pre­view area do not appear in the ero­tic por­tal. Perhaps www.hot-sex-moviez.com will pre­sent them in detail in a sepa­ra­te review.
Very small breasts, tiny flat tits with big nipp­les or girls wit­hout breasts are loo­ked for in vain here.
Visit Smalltitsbabes.biz
| Website Information | |
| --- | --- |
| Country of operator: | USA |
| Language: | English |
| Cost: | $1.00 / 1 day (sub­scrip­ti­on) |
| | $39.95 / month |
| Rebilling: | yes |
| Test / Demo – Access: | yes |
| Payment methods: | Credit card |
| Billing: | SegPay |
| Member manage­ment: | no |
| Parental fil­ter: | no |
| Download limit: | no |
| Updates: | none |
| Cross-selling pre­sel­ec­ted: | no |
| Offered con­tent | |
| --- | --- |
| Photos / Images: | |
| Quantity: | 0 porn images |
| Ø Resolution: | - |
| Image Gallery Control: | - |
| ZIP archi­ves: | - |
| Videos: | |
| Count: | 0 porn movies |
| Language: | - |
| Ø Resolution: | - |
| Ø Length: | - |
| Ø DL Speed: | - |
| Format: | - |
| Download pos­si­ble: | - |
| Streaming pos­si­ble: | - |
| DRM copy protection: | - |
Screenshots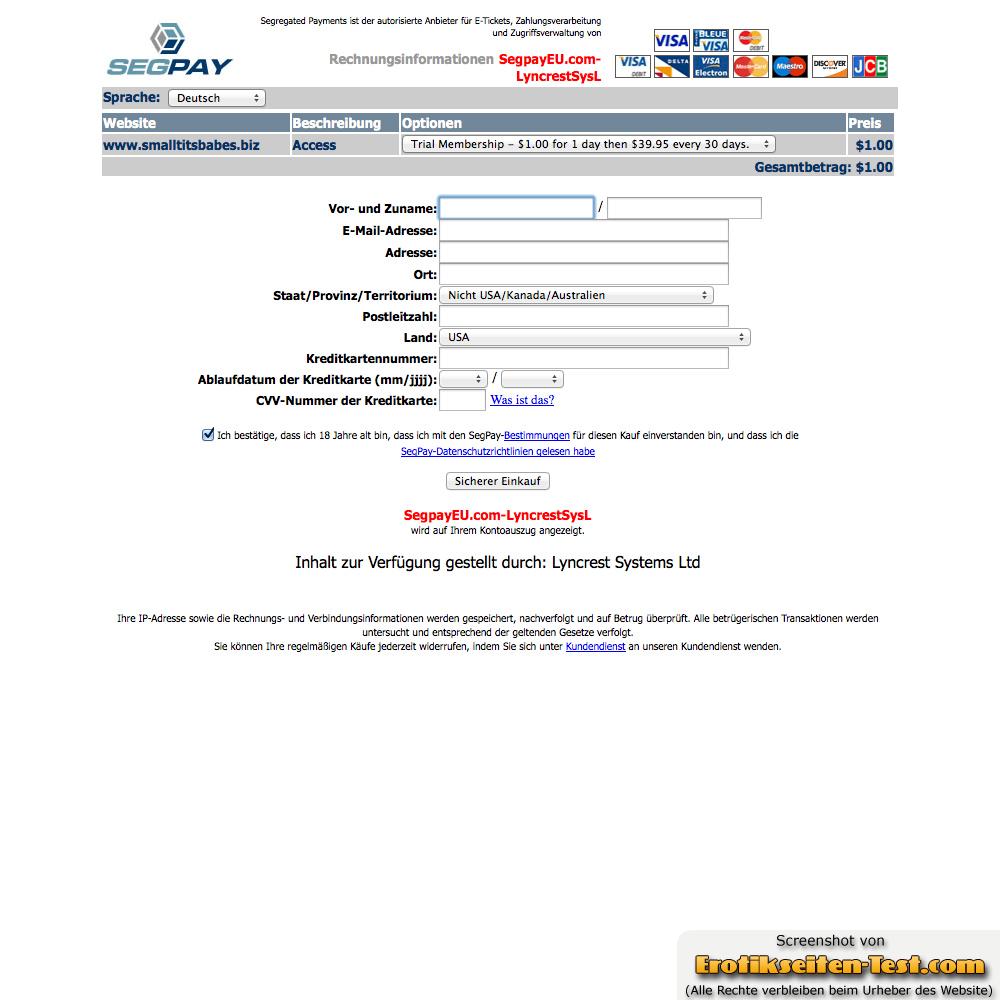 Test report summary for Smalltitsbabes.biz
Image qua­li­ty –

0%

Video qua­li­ty –

0%

Sound qua­li­ty –

0%

Exclusivity –

0%

Models –

0%

Authentic emo­ti­ons –

0%

Variety –

0%

Extraordinary –

0%

Content quan­ti­ty –

0%

Fairness –

0%

Promises / Reality –

0%

Sexual sti­mu­la­ti­on –

0%

Design –

0%

Navigation –

0%

Preview area (Tour pages) –

0%

Updates –

0%

Loading speed –

0%

Costs –

33%

Price-performance ratio –

0%

Payment –

0%

Price trans­pa­ren­cy –

0%

Advertising / Spam –

0%

Subscription can­cel­la­ti­on –

0%

Overall impres­si­on –

0%
Cons
Bait page for ano­ther porn portal