Review: Premiumbukkake.com – One of the Hottest Facial Insemination Porn Sites
In many group sex, gang­bang and buk­ka­ke porn you too often see women tur­ning their heads to the side during facial cuming, squin­ting their eyes and mouths and spit­ting out cum ins­tead of swallowing.
The direc­tor of PremiumBukkake.com finds cum dod­ging (dod­ging cum) to be just as turn-offish and annoy­ing. He has come up with an effec­ti­ve psy­cho­lo­gi­cal trick:
In his cum porn, an expe­ri­en­ced, second woman sits direct­ly behind the main porn star. She fixes the face with ten­der pres­su­re while num­e­rous men copious­ly inse­mi­na­te it. The assistant che­ers with dirty talk, prai­ses, car­esses, kis­ses and caresses.
She also ensu­res that the mouth always remains obe­dient­ly open. Very atten­tively she brushes with index and midd­le fin­ger "missed sperm" from cheeks, fore­head and nose direct­ly into the mouth. Not infre­quent­ly, the face is also licked clean.
Moreover, on this porn site you will not only be fob­bed off with two or three sperm loads. It is mega­buk­ka­ke with 50 to 100 men and thus a lot of sperm. A coun­ter in the upper right cor­ner of the pic­tu­re shows how many sperm splas­hes have lan­ded in the mouth and how many have been swal­lo­wed. Great idea!
The cum that could not be caught and drips down the chin is always caught with a glass bowl, ice bowl, glass bowl or mar­ti­ni glass. There are bizar­re cum games, cum kis­sing, cum swap­ping (snow­bal­ling, cum swap­ping) at its finest! The glas­ses, bowls and dis­hes are always com­ple­te­ly emp­tied and usual­ly ever­y­thing is swallowed.
I was imme­dia­te­ly on fire and had to sub­ject PremiumBukkake.com to a review. I am also inte­res­ted in your expe­ri­en­ces and opi­ni­ons. Please leave a com­ment below my review
Visit Premiumbukkake.com
Opinion About the Preview Section of Premiumbukkake.com
The Czech porn site PremiumBukkake.com pres­ents incre­di­bly attrac­ti­ve women and very rich cum shots in the pre­view area on ten sub­pages with 5 sce­nes each.
Each scene has a short descrip­ti­on text and is very clear and descrip­ti­ve due to smal­ler and lar­ger pre­view pictures.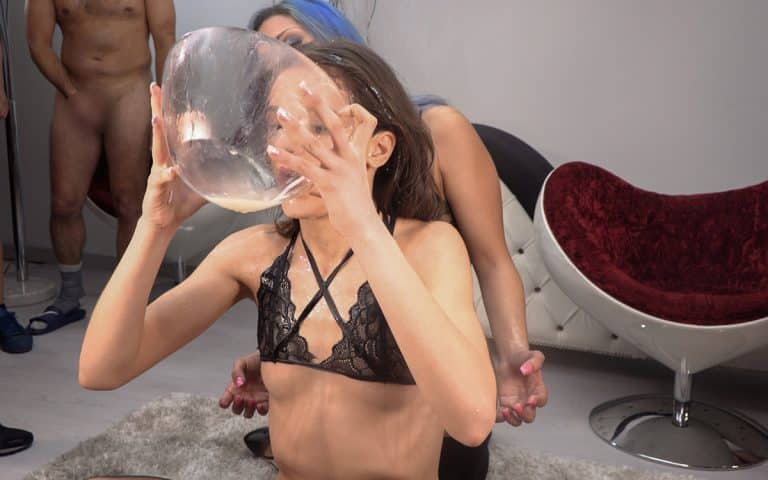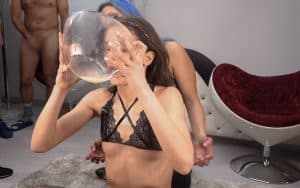 Although the thumb­nails can­not be enlar­ged, high-resolution, 30-second trai­lers can always be cal­led up, which are incre­di­bly horny. It is inte­res­t­ing that there are large "touch hooks" per scene, if you click on them, more video and foo­ta­ge is offe­red. Because per woman
a buk­ka­ke porn (facial inse­mi­na­ti­on) was shot
one glory hole or gang­bang scene
and one Behind The Scene (make-up, photo shoo­ting, dressing)
Unfortunately, the num­ber of trai­lers to watch is limi­t­ed. After what feels like 20 trai­lers, it ends and you only see the regis­tra­ti­on form.
On the whole, the very exten­si­ve pre­view area gives you a good impres­si­on whe­ther this por­no­gra­phic genre suits you or not. The Premium Bukkake porn site defi­ni­te­ly lives up to its name! Really the whole face of the women is abun­dant­ly deco­ra­ted with sperm! Often the mouth is real­ly full to the brim with cum!
Rating of the Porn Sites Registration
In order to watch the horny buk­ka­ke, gok­kun and gang­bang porn, regis­tra­ti­on is of cour­se requi­red. One of the many JOIN but­tons takes you to a German-language boo­king page with the title: "See the best buk­ka­ke videos".
In four ani­ma­ted pho­tos, one can see free video clips with ple­nty of cum in mouths, on faces, in bowls, dis­hes, glas­ses and on pla­tes. To the right is an input form for one's e‑mail address and the desi­red access data. Below that you can see the month­ly price and the pay­ment methods "cre­dit card" (bil­ling com­pa­ny CCBill) and "PayPal / Epoch".
I advi­se you to choo­se EPOCH. This opti­on is che­a­per due to the con­ver­si­on rate and you have more pay­ment opti­ons, such as Sofortüberweisung, Paypal, direct debit and also here the cre­dit card. Furthermore, I advi­se you to use an email address regis­tered spe­ci­fi­cal­ly for porn sites, so as not to burn your pri­va­te email address with porn SPAM.
Simple Booking Process
The fol­lo­wing pay­ment page of the bil­ling com­pa­ny EPOCH. Very posi­ti­ve is that in no pay­ment opti­on, an input of the resi­den­ti­al address is requi­red. The note that it is a recur­ring sub­scrip­ti­on is dis­play­ed transparently.
I wan­ted to try the PayPal pay­ment and click on the "GO TO PAYPAL" but­ton. One goes through the pay­ment pro­cess usual with PayPal. But in the last step, you have to be careful:
Since the Paypal email address and the sign-up email address are dif­fe­rent, the sign-up email address is displayed.
Under it is a pre-selected "action offer", with which one par­al­lel a mem­ber­ship with swallowed.com starting.
If you uncheck the box and click on the but­ton "Complete the purcha­se", you will be redi­rec­ted to an inter­me­dia­te page where the access data is dis­play­ed. After about 5 seconds you will be redi­rec­ted to the login form in the mem­ber area. At the same time, you will recei­ve an e‑mail from EPOCH or CCBill with a boo­king con­fir­ma­ti­on con­tai­ning the access data.
Test – Review Member Area
The login to the mem­ber area is done via http://members.premiumbukkake.com. At first one is very over­whel­med on the start page. In a huge slider there are blog posts, hints for a VIP mem­ber­ship upgrade and adver­ti­sing offers for for­eign porn sites. On the right, a layer with the "Popular Models" is pla­ced above the slider, which dis­plays the 6 most popu­lar models.
Below that, behind the word "Models", you can find a lis­ting of the first let­ters of various porn actres­ses. This is fol­lo­wed by a dis­play of the 9 newest vide­os under "Latest Updates". To the right of that there is a box "Exclusive updates" which dis­plays the screen­shots of two paid videos.
Although
premiumbukkake.com
's mem­ber­ship is not cheap at $40, access is sever­ely limi­t­ed. Before boo­king, it is con­cea­led that one is only a "Silver mem­ber" by default. You can't see all the movies, and you can only watch them in a strea­ming win­dow.
To be able to watch the vide­os wit­hout rest­ric­tions, three addi­tio­nal tariffs are offered:
to be able to down­load the cum vide­os, you have to pay an extra $59.90 per month for a "Gold membership"!
to be able to see so-called "fea­ture updates", one has to buy a "Platinum Membership" for $79.90 per month.
for month­ly $99.85 a "Diamond mem­ber­ship" you can see all movies and down­load everything.
How Is the Premiumbukkake – Member Area Structured?
The most important navi­ga­ti­on opti­on is the top menu at the top of the website
If you click on"Models", you will find an inte­res­t­ing lis­ting of the cur­rent 39 porn actres­ses. You can call a detail page (sedcard) the desi­red girl and find inte­res­t­ing infor­ma­ti­on and links to the porn vide­os of the girls. The advan­ta­ge is that here you can see which vide­os are viewa­ble in the Silver mem­ber­ship and which are only visi­ble as a Diamond member.
The most important menu item is"Videos". When you look at the thumb­nails, you quick­ly rea­li­ze that the video lis­ting is very clut­te­red. For almost every video, there is a movie cal­led "Camera 1", "Camera 2", a "Best of" and "Behind the sce­nes". Therefore choo­se the opti­on"Main Video" in the fil­ter opti­ons under "All Categories" and the sel­ec­tion looks much clea­rer. 😉

You can watch all vide­os that are not mark­ed yel­low. The porn vide­os mark­ed in yel­low are reser­ved for Premium and Diamond mem­bers. You can curr­ent­ly see about 100 buk­ka­ke vide­os as a Silver member.
I find the menu item"Photos" com­ple­te­ly imprac­ti­cal. As a sil­ver mem­ber many sperm photo gal­le­ries are blo­cked. Many photo series also con­tain only "posed" soft­co­re pho­tos from one photographer.
About"Favorites" you can recall your favo­ri­te book­mark­ed porn movies.
In the"Blog" you can find some news about the Premium Bukkake site.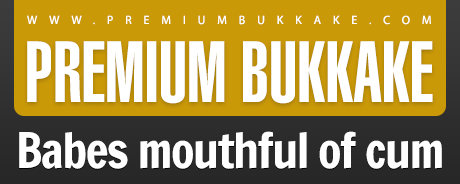 What Kind of Content Is Shown on Premiumbukkake Porn?
Purely in terms of con­tent, not much action is to be expec­ted in a buk­ka­ke porn, but the facial inse­mi­na­ti­ons by approx. 60 to 90 men were very impres­si­ve­ly staged on Premium Bukkake!
The came­ras allow mega awe­so­me per­spec­ti­ves, as if you were live at the facial inse­mi­na­ti­on! With so much sperm splas­hes the view­er is quick­ly on "180" and must be careful not to cum ear­lier than planned! 😉
Each inse­mi­na­ted woman is assis­ted by at least one woman who sup­ports her emo­tio­nal­ly and phy­si­cal­ly. The assistant fixes the head, turns it slight­ly towards the inse­mi­na­tors, pre­vents them from flin­ching away, moti­va­tes with words, keeps the mouth open, and pushes "missed sperm splas­hes" almost 100% into the mouth or into the bowl under the chin.
Extremely Kinky Cum Games
If the girls are dirty enough, the assistant also licks the inse­mi­na­ted woman's face clean, spits her cum into her mouth and spends extre­me­ly horny, pas­sio­na­te cum kisses!
On Premiumbukkake.com almost no sperm is was­ted com­pared to other cum porn sites! In almost all porn, the cum is coll­ec­ted with a bowl or dish (cum bowl). Sometimes cock­tail glas­ses, wine glas­ses or ice bowls are also used. These are of cour­se emp­tied com­ple­te­ly (cal­led gok­kun).
The large amounts of sperm pose a chall­enge even to hard­boi­led porn stars. Without excep­ti­on, all girls for­get their arti­fi­ci­al moa­ning and stu­pid ass wiggling after the first 10 sperm loads in the mouth! 😀
A very handy coun­ter shows the num­ber of loads and swal­lows in the upper-right corner.
What I don't like so much is the com­mo­ti­on in the hall. People are tal­king in Czech and English, cars are hon­king on the street and there is a lot of com­mo­ti­on in gene­ral. However, it must be said that with 100 actors, there is ine­vi­ta­b­ly a cer­tain amount of back­ground noise.
Very Cool Camera Angles
As alre­a­dy men­tio­ned above, film­ing is always done with two came­ras. Unfortunately, the respec­ti­ve sce­nes are offe­red for vie­w­ing in the video overview.
I recom­mend you to watch only the "Best-Of" porn. Everything is there and the per­spec­ti­ves are great. The making-of sce­nes (behind the sce­nes) are not par­ti­cu­lar­ly exciting.
However, I got a litt­le bore­dom after porn vide­os, becau­se the varie­ty, such as a gang­bang is miss­ing. But real buk­ka­ke and gok­kun fans have pati­ence and watch the 40-minute movies with pleasure.
Compared to other sex sites, no arti­fi­ci­al sperm is used for the incre­di­ble amounts of sperm!
Which Models Can Be Found on Premiumbukkake?
Compared to American porn sites, on Premium Bukkake you will find main­ly European porn­stars from Spain, Czech Republic, Italy, Romania and Bulgaria.
Included are for exam­p­le Barbara Bieber, Boni Brown, Camille Oceana, Carolina Vogue, Jimena Lago, Julie Red, Kattie Hill, Kira Thorn, Kristy Black, Luna Corazon, Mira Cuckold, Miyuki Son, Nicole Nicole Love, Rebecca Volpetti, Ria Sunn, Sheril Blossom, Sherry Vine, Tina Kay, Veronica Avluv, Victoria Daniels.
I have not been able to dis­co­ver a porn star from Germany.
What Does Bukkake Mean?
The Japanese-American term buk­ka­ke loo­se­ly trans­la­ted means "mass facial insemination".
This sexu­al prac­ti­ce is a very com­mon sexu­al fan­ta­sy among men. For some inex­pli­ca­ble reason, we guys like to see seve­ral guys cum in a row into a woman's face or direct­ly into her mouth.
Very often, the inse­mi­na­ti­on takes place in the con­text of a sex party (men's sur­plus party) or at an orga­ni­zed, large gang­bang with num­e­rous men (eg Sperma Studio or Germangoogirls). Here the woman is fucked by num­e­rous guys very hard and horny and in a final round stron­gly inse­mi­na­ted. However, there are also pure buk­ka­ke par­ties, where the woman exclu­si­ve­ly prac­ti­ces oral sex wit­hout sex and is spray­ed with a lot of sperm (WeLoveBukkake).
The advan­ta­ge of buk­ka­ke is the abun­dant sperm depo­sit on a most­ly beau­tiful face. The run­ning and drip­ping of cum looks incre­di­bly sti­mu­la­ting. Women who like to swal­low cum often also get invol­ved in per­ver­ted cum games with other women and like cum kis­sing or snow­bal­ling (swap­ping cum).
Often bowls (cum­bowl), glas­ses, shot glas­ses, mar­ti­ni, cock­tail or coll­ins glas­ses, cups and pla­tes (cum­p­la­te) are used to coll­ect sperm. Very horny in this regard is, for exam­p­le, the porn site Gangbang Creampie.
Opinions About Site Structure & Design
You can see that the sex site Premiumbukkake.com has been opti­mi­zed for mobi­le use. In my opi­ni­on, the visu­als and usa­bi­li­ty suf­fer a bit from this due to the huge navi­ga­ti­on elements.
The oran­ge color is visual­ly very plea­sing and unob­tru­si­ve. The "CONTINUE" scroll but­ton is a bit too far down and can be quick­ly overlooked.
The cum splas­hes come across very well on the sweet faces of the girls and give the fuck page a sti­mu­la­ting character.

Experience With the Subscription Cancellation
Unfortunately, the ope­ra­tor of the porn site does not point out how to can­cel the subscription(s) again. Some con­side­ra­ti­on is necessary.
First of all, you should look in your boo­king con­fir­ma­ti­on to see with which pay­ment pro­vi­der you have con­cluded the subscription.
If it was CCBill, open the https://support.ccbill.com/?language=german page
If it was EPOCH, go to https://epoch.com/de/find_purchase
Since my boo­king was with EPOCH, I explain my can­cel­la­ti­on of the sub­scrip­ti­on below.
Enter two things in the "FIND PURCHASE" box. I ente­red the mem­ber ID and my email address and cli­cked on the "Find my account" button.
If the data is cor­rect, you can see your sub­scrip­ti­on on the "ADMINISTRATE YOUR PURCHASES" page: "MEMBER ID: XXXXXXXX www.premiumbukkake.com". Below it in green let­ters is the word "Repeat".
Click on the but­ton "CANCEL".
A box will open asking for the can­cel­la­ti­on reason. Select "Do not spe­ci­fy a can­cel­la­ti­on reason" and click the "CANCEL PURCHASE" button.
That's it. You will now see the red text "Repeat can­ce­led" in your sub­scrip­ti­on over­view. An e‑mail con­firms your can­cel­la­ti­on in writing.
Review Conclusion of the premiumbukkake.com Test Report
Premiumbukkake.com is an incre­di­bly horny buk­ka­ke porn site! I have rare­ly seen such sti­mu­la­ting porn where such gigan­tic amounts of cum end up in a woman's mouth! On avera­ge, the pret­ty women are inse­mi­na­ted by 60 to 100 men. That is very, very, very much sperm! The mouth is com­ple­te­ly fil­led and very well-behaved girls hold the sperm bowl under their chin.
Characteristic is the fixing of the head by ano­ther woman as well as the fee­ding with sperm spray­ed next to it. Cool is also the faded in coun­ter "Loads" (sperm loads) and "Swallowed" (swal­lo­wed).
However, as a new cus­to­mer you feel a bit rip­ped off at first. The mem­ber­ship is not very cheap any­way and you only find out after boo­king that you have to pay ano­ther 60, 80 or 100 dol­lars a month to be able to see all the con­tent. In my opi­ni­on, it's not worth spen­ding even more money, since most porn always fol­lows the same pattern.
However, in sum­ma­ry, I am high­ly satis­fied with the appro­xi­m­ate­ly 70 buk­ka­ke porn for this price. The unu­su­al pre­sen­ta­ti­on with the fixing of the head, the sperm coun­ter and the coll­ec­tion with a cum­bowl (sperm bowl) make this buk­ka­ke porn very worth watching.
Visit premiumbukkake.com
Related Links: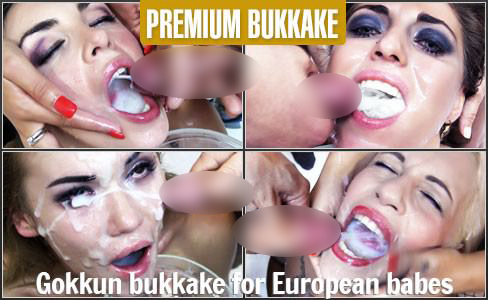 | Website infor­ma­ti­on | |
| --- | --- |
| Country of operator: | Czech Republic |
| Language: | German |
| Cost: | $39.95 / month (sub­scrip­ti­on) |
| Rebilling: | yes |
| Test / Demo – Access: | no |
| Payment methods: | Credit card, instant bank transfer |
| Billing: | CCBill, EPOCH |
| Member manage­ment: | yes |
| Parental fil­ter: | no |
| Download limit: | no |
| Updates: | every two weeks |
| Cross-selling pre­sel­ec­ted: | yes |
| Offered con­tent | |
| --- | --- |
| Photos / Images: | |
| Number: | 15,000 porn images |
| Ø Resolution: | 3500 x 1300 Pixel |
| Image gal­lery control: | yes |
| ZIP archi­ves: | no |
| Videos: | |
| Quantity: | 250 porn movies |
| Language: | English |
| Ø Resolution: | 1080HD |
| Ø Length: | 40 minu­tes |
| Ø DL Speed: | 10,000 kB/sec |
| Format: | MP4 |
| Download pos­si­ble: | yes |
| Streaming pos­si­ble: | yes |
| DRM copy protection: | no |
Screenshots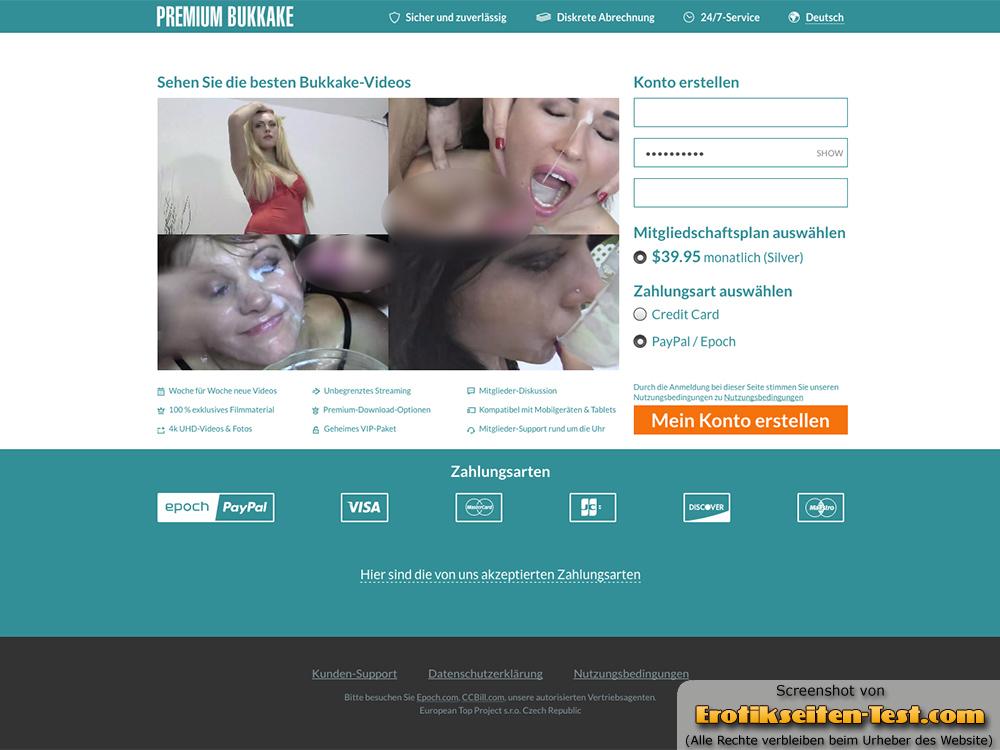 Test report summary for Premiumbukkake.com
One of the very best buk­ka­ke porn sites in the world!
If you like mas­si­ve facial cum with the help of glas­ses, bowls, dis­hes and kit­chen uten­sils, you defi­ni­te­ly can't avoid this high­ly horny porn site. There is no tri­ckery with fake cum, nor is there any cum was­ted. An assistant makes sure that the porn actress swal­lows pro­per­ly (Gokkun). The pro­ject is just mega!
Image qua­li­ty –

100%

Video qua­li­ty –

100%

Sound qua­li­ty –

67%

Exclusivity –

100%

Models –

100%

Authentic emo­ti­ons –

83%

Variety –

67%

Extraordinary –

100%

Content quan­ti­ty –

83%

Fairness –

33%

Promises / Reality –

83%

Sexual sti­mu­la­ti­on –

100%

Design –

83%

Navigation –

100%

Preview area (Tour pages) –

100%

Updates –

83%

Loading speed –

100%

Costs –

33%

Price-performance ratio –

83%

Payment –

100%

Price trans­pa­ren­cy –

50%

Advertising / Spam –

33%

Subscription can­cel­la­ti­on –

67%

Overall impres­si­on –

100%
Pros
Extremely sti­mu­la­ting buk­ka­ke scenes
Gigantic facial inseminations
Sperm coun­ter counts cumshots
PayPal pay­ment possible
Multi lan­guage boo­king process
Cons
Downloads are extra chargeable!
Some vide­os only as DiamondMember
Cross-selling in boo­king form
Somewhat too litt­le variety
Camera 1 & 2 some­ti­mes show the same scene