Test report about ChantasBitches.com - A lesbian dominatrix spoils slave girls to orgasm
As you have surely read in other reviews, we are always on the lookout for exceptional erotic sites. In our evaluation, "class instead of mass" is more important to us. After a long search, we found an excellent bondage and SadoMaso website with ChantasBitches.com!

A woman named Chanta Rose presents on chantasbitches.com in a very stimulating way how she gets off on other women. The domain name is loosely translated: "Chanta's bitches".
Idea, concept and implementation are ingenious: Instead of the usual pot-bellied, gray-haired "SM masters in leather vests", the attractive Mistress Chanta herself cracks the whip. Sometimes, however, her girlfriends take the lead. This has a very stimulating character - because women know best how to satisfy women properly and can estimate the load limits of their playmates better than men.
In this review we would like to introduce you to chantasbitches.com and tell you about our opinions and experiences with this BDSM sex site.
Visit ChantasBitches.com
Opinion about the preview area of ChantasBitches.com
The preview area of ChantasBitches.com shows very transparently what content the potential customer can expect. The preview area is at the same time the member area. On 25 pages you can find five scenes each with thumbnails and a scene description.
You can see in the preview images that various fetishes are served: Lacquer, leather, latex, foot sex, anal sex and of course pain and lesbian games. As mentioned, only female mistresses perform the treatments on female slaves. In technical jargon, this is called FemDom (Female Domination) and "Hardcore Lesbian Porn".
The whole navigation is done by the button Updates. It is possible to browse through the currently 125 galleries very well even with only little knowledge of English.
Interesting is the button Stars - You can get an overview of the models. About a button Links you get to all erotic pages of the production company "Twisted Factory".
Porn page rating - registration
The registration at the member area is very simple. One clicks in the upper right corner on JOIN and enter your e-mail address and the desired access data on the page.
You can also choose the desired tariff. We recommend the default setting "30-day recurring". Then the booking form opens and we tried a prepaid credit card.
Voila' it is accepted. (A prepaid credit card protects against uncontrolled rebilling, unauthorized charges by dubious billers and the questioning look of the wife / life partner)
Annoyingly, the e-mail address is misused for sending SPAM. Every day 2 SPAM e-mails trickle into the mailbox! We strongly recommend to use an e-mail address that is set up for porn sites.
Test - Review Member Area
As already written, the preview area is also the member area. So you don't have to get used to it. After entering the access data you now have access to the picture galleries and videos of chantasbitches.com.
Rating of the videos
You have the choice whether you want to watch the BDSM porn as a Flash stream directly in the browser or download it as MOV or WMV files to your hard drive. Apple and Windows users are ideally supplied with their respective main video format.
The BDSM videos are the absolute top hit! Interestingly, the mistresses don't go wild, but enjoy the game with their slaves very impressively.
Chanta takes her bitches really hard - but not too hard - ran! She knows exactly when, where and how to apply various toys! With stimulation current, massage devices and professional finger techniques, the sub-girls are wrested at least one forced orgasm. Often, however, the slaves "suffer" agonizing multiple orgasms, squirt or run out of horniness downright.
In almost every film Chanta masturbates herself to orgasm and / or abuses her slave girls as a satisfaction aid! Again and again they have to lick their pussy out and clean. If they do not do it right, it sets punishment!
Horny lesbians LezDom and BDSM porn with real orgasms and squirting
The slave girls bravely endure their torments, whippings, paddle strokes, weights, clamps, etc. Despite various tortures, occasionally a smile of pleasure flits across their pain-distorted faces.
Chanta is excited about every treatment and it obviously makes her horny to torture. Her favorite treatment methods are: the nipple torture with clamps, weights and fingers as well as the orgasm torture with intensive massage devices such as the Eroscillator, Hitachi Magic Wand. Her inventory includes various bondage and percussion devices as well as various dildos, strap-on dildos (harnesses), pussy suckers, nipple suckers, nipple weights, clamps, an EROSTEK stimulation current device with various electrosex electrodes and candle wax.
Also interesting is the fact that former slave girls are occasionally seen later as Master / Mistress in some videos. So the girls know exactly how which pain feels and how best to use the equipment.
The only thing that was solved a bit unfortunate is the video download. You can't download the movies as one file, but download them splitted in a zip file with several single videos. However, the VLC - or Media Player - helps here - you can play the segments in a playlist one after the other.
Rating of the LezDom photos
The photos of chantasbitches.com were shot in parallel. However, they only have a resolution of 1024 x 680. You can browse through the pictures via a Javascript navigation and also download the galleries completely as a ZIP.
The pictures themselves are very sharp and well lit. Moving moments of the BDSM sessions were captured. For example, extreme torture treatments, shocked or pain-distorted faces, massive pussy juice photos The pictures are also a pleasure and are worth looking at in peace even in the VDSL age.
On chantasbitches.com you can find the following porn actresses, among others: Kimberly Kane, Madison Young, Ava Devine, Bobbie Starr, Audrey Leigh, Dragon Lily, Christina Carter, Hollie Stevens, Candy Manson, Cassie Young, Charlotte Slander, Jezzebelle Bond, Kendra James, Mika Tan, Ozzma Lynn, Satine Phoenix, Shannon Kelly, Taylor Jolie and many others.
Opinions about site structure & design
The design of chantasbitches.com could be described as semi-professional. In a way, it has an amateurish, no-frills character.
The link structure and the page layout are clear, simple and concise. Via the button Updates you can always find your way back to the starting page without any problems and a cookie remembers on which gallery page you have been last.
Experiences with the Subscription Cancellation
In the FAQ (Frequent Asked Question) you will find a link how to cancel the membership of chantasbitches.com. A form opens where you enter your username and email address. In two clicks, the ChantasBitches subscription is canceled.
Test verdict & conclusion to the test report of ChantasBitches.com
Fans of lesbian BDSM movies will definitely be delighted with chantasbitches.com.
You can feel that Chanta Rose AND her playmates equally enjoy the nasty torment and torture. Since for Chanta the "Forced Orgasm" is on top of the treatment list, the real orgasms are not neglected.
Chanta also often has to satisfy herself or be satisfied during the sessions! Contrary to many BDSM acts usually performed by men, Chanta and her mistresses know how what feels and how strong or how long a treatment with the appropriate toy may be.
A very, very nice BDSM site, which can be recommended without reservation!!!!
Visit ChantasBitches.com
Hosted Gallery - Picture Galleries:
Brutal orgasm torture with massagers, neon wall, nipple suckers, clothespins
Orgasm torture, electrosex, brutal fuck, clamps on pussy and nipples - Bisexual Girls
Brutal lesbian sex with Mistress Chanta: nipple sucker, electrosex, flogger, hard dildo fuck...
Nipple & cunt treatment with pump up dildo, nipple sucker, clamps, strapon fuck incl. orgasm
Extreme punishment with Erostek, Samurai stimulation current, clamps + weights & multiorgasm
Hosted Gallery - Video Galleries:
Horny lesbian BDSM - Session with Chanta Rose: anal treatment, electrosex, strapon fuck...
Lesbian BDSM threesome: forced orgasm, pussy stretching, analingus, sandwitch strap-on fuck
Lesbian Rape with Bondage, Electrosex, Eroscilator, Magic Massager, Orgasm Torture
Chata Rose's favorite sex toys: The Samurai, Magic Massager, Strapon, Nipple Clamps
Grateful slut gets brutally fucked with strapon + nipple torture & forced orgasm!
| Website Information | |
| --- | --- |
| Country of operator: | USA |
| Language: | English |
| Cost: | 24.95 $ / 30 days (subscription) |
| | 49.95 $ / 90 days |
| Rebilling: | yes |
| Test / Demo - Access: | no |
| Payment methods: | Credit card, debit, check |
| Billing: | Segpay |
| Member management: | no |
| Parental filter: | no |
| Download limit: | no |
| Updates: | monthly |
| Cross-selling preselected: | no |
| Content offered | |
| --- | --- |
| Photos / Images: | |
| Number: | 15.000 Porn images |
| Ø Resolution: | 1024x683 pixels |
| Image gallery control: | yes |
| ZIP archives: | yes |
| Videos: | |
| Quantity: | 125 porn movies |
| Language: | English |
| Ø Resolution: | 1024x576 |
| Ø Length: | 45 minutes |
| Ø DL speed: | 0 kB/sec |
| Format: | WMV, MOV |
| Download possible: | yes |
| Streaming possible: | yes |
| DRM copy protection: | no |
Screenshots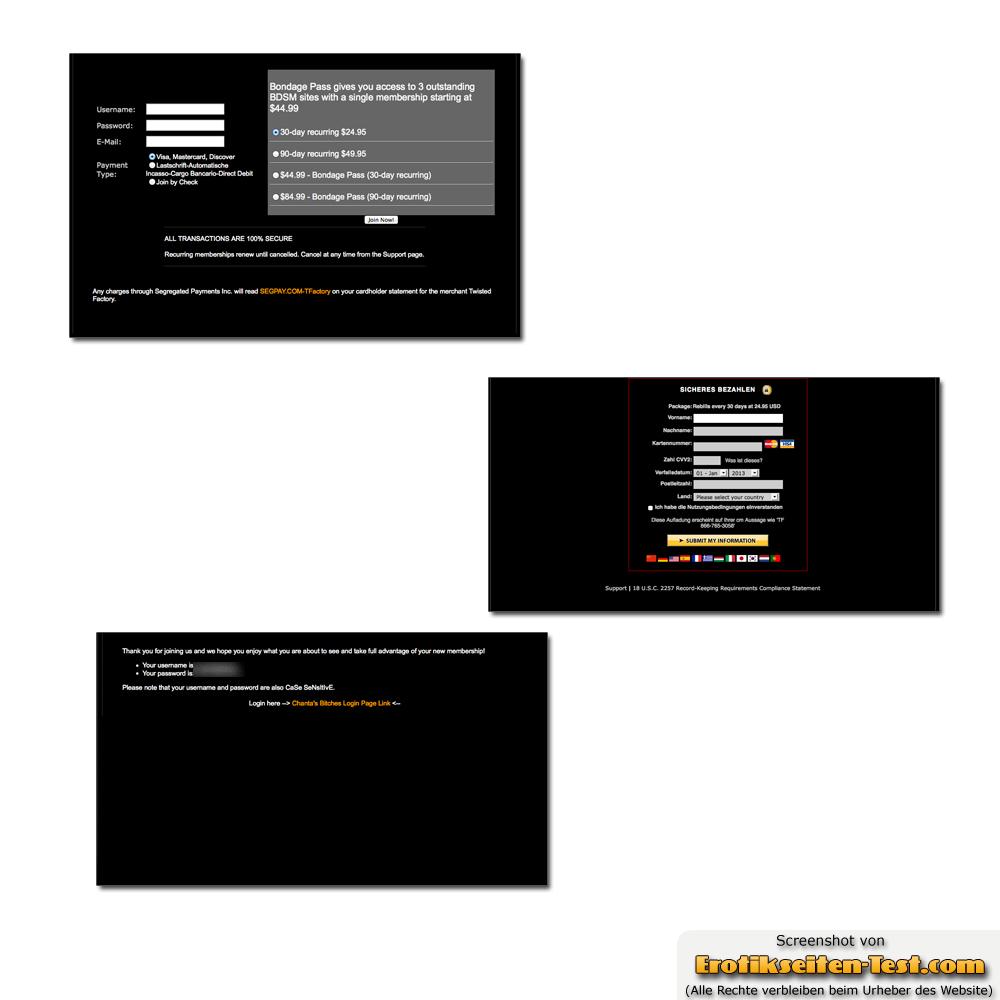 Demo-Pics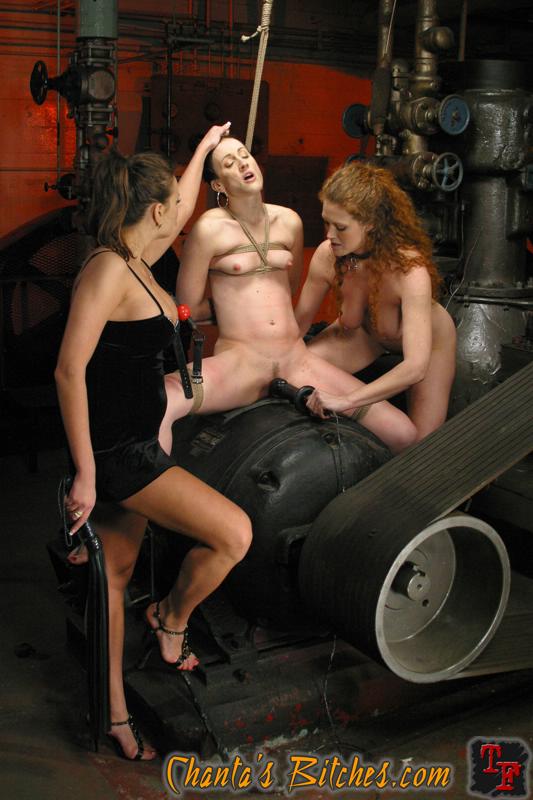 Test report summary for ChantasBitches.com
Image quality -

83%

Video quality -

100%

Sound quality -

100%

Exclusivity -

100%

Models -

100%

Authentic emotions -

100%

Variety -

100%

Extraordinary -

100%

Content quantity -

67%

Fairness -

100%

Promises / Reality -

100%

Sexual stimulation -

100%

Design -

83%

Navigation -

100%

Preview area (Tour pages) -

83%

Updates -

50%

Loading speed -

100%

Costs -

50%

Price-performance ratio -

100%

Payment -

100%

Price transparency -

67%

Advertising / Spam -

67%

Subscription cancellation -

83%

Overall impression -

100%
Pros
Sehr anregende BDSM Videos
Attraktive Mistressen
Sklavinnen genießen ihre Behandlung
Videos Windows & MAC-kompatibel
einfacher Seitenaufbau
Cons
Videos in ZIP Dateien aufgesplittet
etwas zu kleine Fotos
keine Update-Informationen (Datum)
Emailspam
keine Abo-Übersicht