Review: Review of AmateurTied.com - A BDSM porn site with real amateurs
Since we had very good experiences with various amateur sex sites, we came up with the idea to test AmateurTied.com. The combination of bondage, SM and amateurs seems to be an explosive mixture.
Many women get off on the fact that they have to "endure" various activities of their partner "defenselessly" tied up, provided with an eye mask. We guys, on the other hand, are turned on by the fact that we can do whatever we want with our girls (without argument)!
AmateurTied.com calls itself "the world's largest amateur bondage collection" and is the only place for "bondage pictures uploaded by users". Furthermore, the operator promises 10,000-de amateur pictures taken at home, hours of videos, regular updates and the possibility to download all pics and videos. And all this for an unspeakably low monthly price.
The statements seduced us to become a member. In this review we would like to tell you our opinions and impressions. Under the test report you can tell us your questions, experiences and thoughts.
Visit Amateurtied.com
Opinion about the preview area of Amateurtied.com
The preview area of AmateurTied.com is exciting and unadorned at the same time. In drab black, numerous bondage scenes are presented on the thumbnails.
In different home locations the women are tied up in the kitchen, in living rooms and in bedrooms and partly tortured tenderly to hard on nipples and pussy.
A nice flash video puts the icing on the cake.
Numerous promises, for example, that amateurtied.com. "The fastest growing amateur bondage collection on the web", underpin a serious impression.
The update gallery looks very tempting and one has the impression that the member area is top maintained and updated. But that this is not quite true, you do not suspect as a non-member yet!
Porn page rating - registration
If you want to become a member of AmateurTied.com, click on one of the many JOIN links in the preview area. A page opens, where some advantages are listed again, if you become a member.
If you now click on "Click Here For Instant Access", a CCBill page opens, which contains a booking form via credit card. If the German language is not set automatically, you can select it by clicking on the country flag.
Unfortunately, there is no alternative way to pay by direct debit. However, our prepaid credit card worked. Once you have filled in all the data, click on "Complete the purchase"
A payment confirmation from CCBill is then displayed and the access data is clearly listed. Before you close the page, you should check if the confirmation email from CCBill has arrived.

Test - Review Member Area
After entering the access data and a code, which is displayed in a graphic, you enter the member area of Amateur Tied. On the homepage the nine newest galleries are displayed by means of a picture gallery software.
That the photos under "Updates" in the preview area do not appear at all in the new photos of the current month and this is basically fraud, one does not notice at this time yet!
If you start clicking through the galleries highly motivated and curious, the face of the viewer gets longer and longer disappointed. Somehow no really horny mood wants to arise. We testers had expected a bit more from amateurtied.com.
Evaluation of the BDSM photos
The photos are actually taken by numerous amateurs of all nationalities. The project was obviously created in July 2008 and the galleries were then quite loveless and quickly clicked together.
In the meantime this has improved a bit and every month three to five new galleries are added. Somehow you get the impression that the photos are taken from various usenet and photo sharing portals. Mostly there are only three to six photos of each girl.
Of course, the photo quality and image resolutions vary greatly according to the camera used. You can catch both huge but tiny SM photos. If you are fast, you will have seen all BDSM photo galleries within 1 ½ hours.
Buxom Rubens ladies are "treated" with BDSM
The content is primarily about women around 40 to 50, with a few kilos too much on their hips. Many pictures are anything but delicious!
In between, however, you can also find great random hits. Some picture sets consist of a good 20 to 50 photos and the girls look slim and horny. Even orgasm photos are included. A few girls visibly enjoy their torture! They bravely bite through, enjoy the pain and smile when they have survived their session.
Unfortunately, the viewer's budding feelings of horniness are always destroyed because the majority of the photos (as just mentioned) are rather abturning.
By the way, it's interesting to mention that a very clear share of the photos of amateurtied.com comes from Germany. You can see that in various furnishings, held up notes with swear words on them or words written on the body.
Rating of the BDSM videos
The offered videos are so bad that they are not even worth writing a single word about them!
In tiny resolution they are offered for download as Flash stream and WMV. They were collected together with cramp and stretched with foreign content.
There a guy gets his balls whipped, tied up girls make a penos cum etc.! The video section could be saved by amateurtied.com.
At least we found two bondage videos of a German couple talking in German while he bangs her tied up. But unfortunately, that's about it, which is somewhat exciting.
Opinions on page layout & design
The design of amateurtied.com is very sober: black page, Arial font, white text color. On only three pages you can't get lost in the preview layout. Somehow the layout fits the theme and maybe just its simplicity tempts to buy.
The members area is no more elaborate either. Basically, everything revolves around the image gallery script, which is simple and intuitive to use. Again, the user knows exactly where he is and has a secure feeling of keeping track of the menu structure.
Experiences with the subscription - cancellation
Nowhere on the part of the operator is reference made to the subscription and its cancellation. To get rid of the subscription at amateurtied.com, all you need is a good memory and the CCBill booking confirmation e-mail (E-Mail Confirmation for Subscription).
At the bottom of the e-mail there is a link "Customer Support/Cancel Your Subscription". If you click on this link, you will be taken directly to the cancellation form. At the top right, you can select your language, then select the payment method "credit card" and copy your e-mail address and subscription identification number into the fields provided.
On the next page you will see your subscription overview and click on "Click here to cancel your subscription", select the reason for cancellation and click on the YES button
After confirming the SUBMIT button, you will see the cancellation confirmation page with the text "Subscription No. 0000815 successfully cancelled". At the same time, CCBill sends a cancellation confirmation by e-mail.
Test verdict & conclusion to the test report of Amateurtied.com
Unfortunately, the exuberant capers of amateurtied.com do not prove true in our eyes
Statements like: "Beingthe fastest growing bondage collection on the web" and"World's largest bondage collection" are quite daring and in our opinion there are far better bondage and BDSM sites in the same price range.
Most of the "models" are from 40 years upwards and have buxom rubens figures. Occasionally you can find eye candy in between, who visibly enjoy their BDSM sessions.
The videos offered can all be forgotten! All in all, we rate amateurtied.com for this proud monthly price with school grade "3", i.e. satisfactory.
Visit amateurtied.com
Hosted Gallery - Picture Galleries:
Amateuer BDSM: What men do to their women!
Private Bondage & SadoMaso Pictures
Tied up wife
Blindfold, bondage, nipple clamps, clothespins.... A brave amateur
Very brave slave girl from Germany
Wives voluntarily humiliated, tied up & tortured by their husbands
Young couple practices BDSM
Man abuses his wife for perverted games
Tits bondage, nipple clamps torture & nipple pain
Perverted German housewife gets humiliated
Very kinky bondage sex & hard SM practices at home
| Websites Information | |
| --- | --- |
| Country of operator: | USA |
| Language: | English |
| Cost: | 24,95 € / 1 month (subscription) |
| | 59,95 € / 3 months |
| Rebilling: | Voluntary |
| Test / Demo - Access: | no |
| Payment methods: | Credit card |
| Billing: | CCBill |
| Member management: | yes |
| Parental filter: | no |
| Download limit: | no |
| Updates: | none |
| Cross-selling preselected: | no |
| Offered content | |
| --- | --- |
| Photos / Images: | |
| Quantity: | 9.500 porn images |
| Ø Resolution: | 2000x1800 pixels |
| Image gallery control: | yes |
| ZIP archives: | no |
| Videos: | |
| Quantity: | 30 porn movies |
| Language: | English |
| Ø Resolution: | 320 × 240 |
| Ø Length: | 5 minutes |
| Ø DL speed: | 500 kB/sec |
| Format: | FLV |
| Download possible: | yes |
| Streaming possible: | yes |
| DRM copy protection: | no |
Screenshots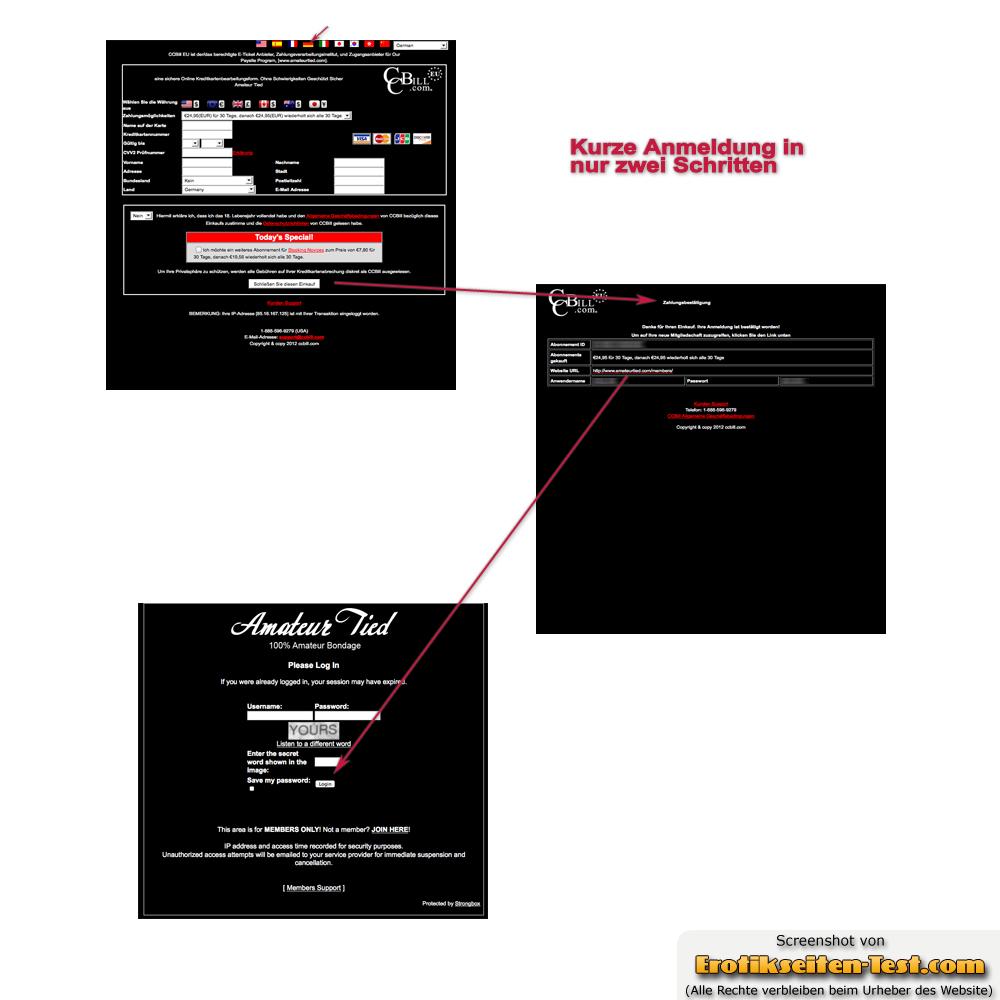 Demo Pics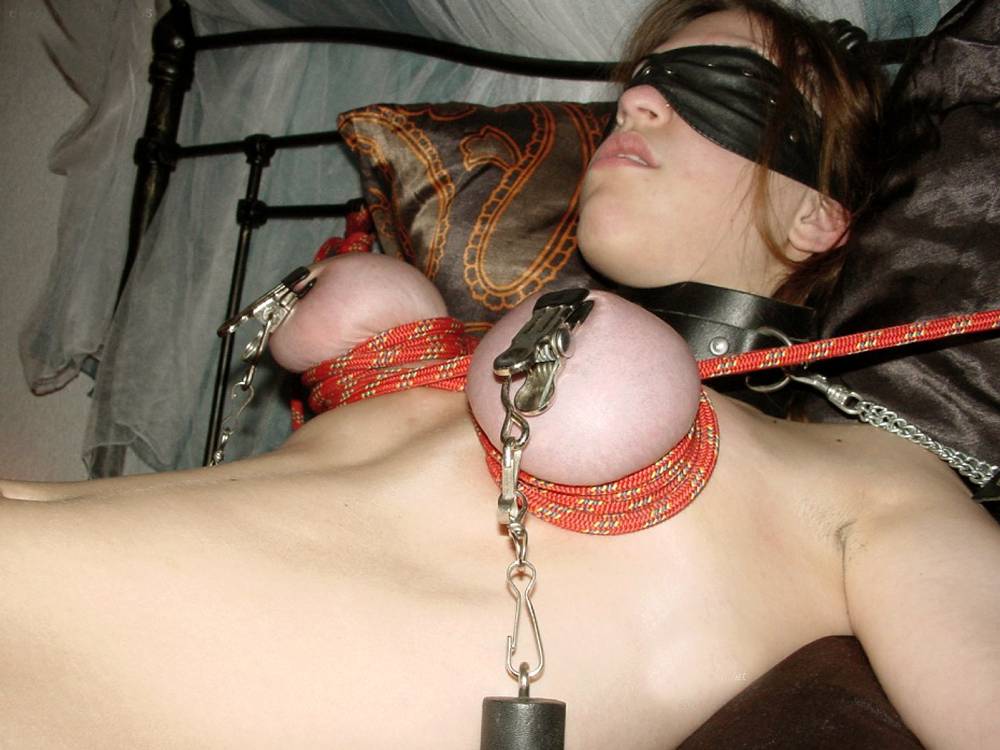 Test report summary for Amateurtied.com
Image quality -

50%

Video quality -

17%

Sound quality -

17%

Exclusivity -

33%

Models -

33%

Authentic emotions -

33%

Variety -

100%

Extraordinary -

83%

Content quantity -

33%

Fairness -

100%

Promises / Reality -

26%

Sexual stimulation -

67%

Design -

67%

Navigation -

50%

Preview area (Tour pages) -

67%

Updates -

17%

Loading speed -

100%

Costs -

50%

Price-performance ratio -

26%

Payment -

83%

Price transparency -

67%

Advertising / Spam -

67%

Subscription cancellation -

83%

Overall impression -

25%
Pros
EINIGE sehr geile SM+ Bondage-Girls
Inspirierende Fesslungstechniken
zahlreiche deutsche Paare dabei !
Cons
viele dicke, alte Frauen
Videos sind extrem schlecht
langweiliges Design
teilweise miserable Image quality
keine Image-ZIP-Funktion